Everyone loves a flawless, bright smile. Our teeth can lose their shine for various reasons like smoking and consuming tooth-staining foods and beverages. Teeth whitening in Monroe Township NJ, is a simple procedure that can brighten the color of your teeth and help eliminate most stains and discoloration. It is a widely preferred cosmetic dental procedure that can significantly enhance the appearance of your smile. At Ardent Dental Arts in Monroe Township NJ, we offer teeth whitening solutions to give you a healthy, beautiful smile that will be the envy of others.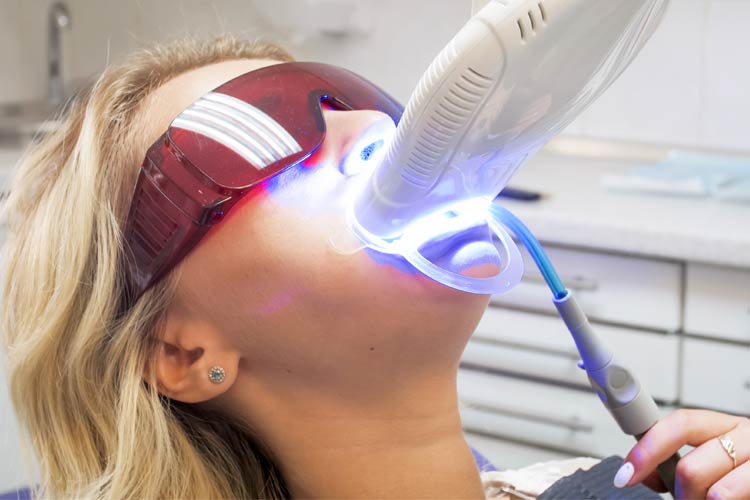 The Effectiveness of Teeth Whitening In Manalapan Township NJ
Teeth whitening treatments in Manalapan Township NJ, entail breaking down your tooth discoloration so that your smile looks brighter. The effectiveness of the treatment will largely depend on the cause of your discoloration. Each whitening technique has a different degree of permanency and efficacy. Our dentist, Dr. Ravneet Nanda, will advise you on the best technique and intensity of whitening required for your teeth to achieve the desired results.
Keep in mind that whitening effects will vary for every individual, as everyone's teeth are different. Some patients can achieve a whiteness level that is several shades brighter than their existing smiles, while others may attain only a certain brightness level.
Before performing the teeth whitening in Manalapan Township, we will assess your oral condition to determine the causes of your discoloration. Based on our diagnosis, we will recommend the best course of treatment.
Teeth Whitening In Monroe Township
A light-activated whitening session at our office, also called Chairside bleaching, is a simple procedure that gives you instant and dramatically whiter teeth. In this process, a bleaching solution is applied to your teeth and left for about thirty minutes. Laser light activates the bleaching agents, which help break down the stains and discolorations to give you a white smile. 
Take-Home Whitening Kit In Manalapan Township NJ
If you prefer bleaching in the comfort of your home, we will create customized plastic trays to fit your teeth. These trays will be a part of your take-home whitening kit, along with whitening gel tubes. The trays must be filled with whitening gel and worn over your teeth. Based on the strength of the gel, you shall be instructed on the duration and frequency of wearing the trays. When you notice new stains, wear the tray again to remove the stains. While this option doesn't offer instant results, it's more economical for your pocket. With proper care, the trays should last for years, with the need to only restock the gels.
Ardent Dental Arts, located in Englishtown, NJ is equipped with expert dentists and the latest amenities that enable the best dental care facilities for the patients. Call us at (732) 627-4108 and schedule an appointment with the dentist to know more about dental treatments provided at the dentistry.